16 May 2019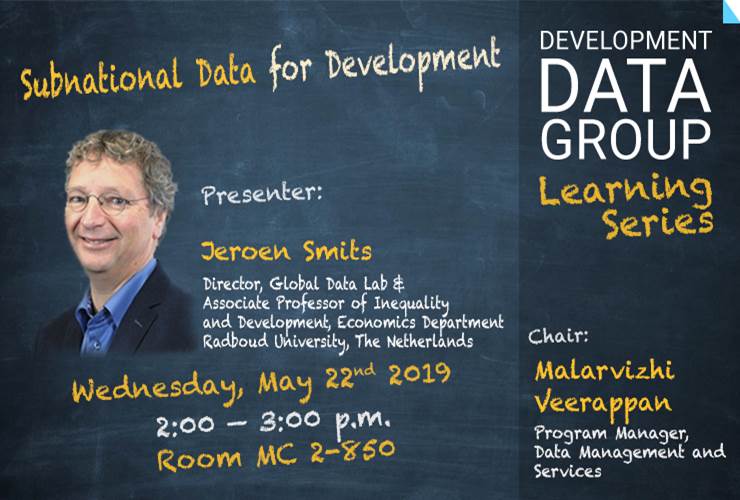 Do you use subnational data for research or operations? Do you have trouble finding, managing or curating subnational datasets? Have you ever used the Development Data Hub (DDH)?
Come learn about how subnational data are collected, managed, and constructed in the Global Data Lab's Database Developing World, which features 400 harmonized household surveys and over 100 indicators that capture variations within countries in the fields of wealth, poverty, education, gender, demographics, and health.
Jeroen Smits, director of the Global Data Lab, will share how his team developed the Subnational Human Development Index (SHDI). The Human Development Index (HDI), originally designed by UNDP, measures average achievement at country level in key dimensions of human development: health, education, and standard of living. This subnational version is currently available for more than 1,600 regions in 161 countries between 1990 to 2017, covering more than 99% of the world's population.
Speaker Bio
Jeroen Smits is Director of the Global Data Lab and Associate Professor of Inequality and Development at the Economics Department of Radboud University in the Netherlands. He is a broad social scientist specializing in cross-national multilevel research, data enrichment, and the development of knowledge instruments. Jeroen's major research interests include inequality, social cohesion, and economic development. He developed a comparable wealth index for low- and middle-income countries (LMICs) and published comparative studies in the fields of education, child labor, women's employment, child mortality, intermarriage, and public health related issues in LMICs.